Chris Pienaar Honored for Excellence in the Field of Bioscience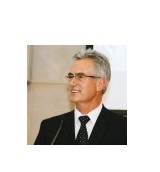 Chris uses his expertise in general management and leadership when managing investment funds on behalf of the foundation
JOHANNESBURG, SOUTH AFRICA, March 15, 2014, Chris Pienaar, Chief Executive Officer of the Hans Merensky Foundation, has been recognized for showing dedication, leadership and excellence in general management and the advancement of bioscience.
With 25 years of experience in timber, fruit and related processed product marketing and leading Hans Merensky Holdings as its CEO for 12 years, Chris Pienaar uses his expertise in general management and leadership when managing investment funds on behalf of the foundation, handling operational, financial and budget responsibilities, and overseeing controlled science projects.
Mr. Pienaar earned an MBA at Stellenbosch University in 1982. He is currently enrolled in an M.Phil candidate in executive coaching at Stellenbosch University Business School. He was recently inducted into Worldwide Branding and also maintains affiliation with the Institute of Directors of the South African Institute of Forestry, and Science in Africa. In his free time, he enjoys cycling and running. He attributes his success to having an ability to design and execute strategies for the company. Looking ahead, Mr. Pienaar aims for further development and growth, and will consider filling other CEO positions in related industries.
For more information about Hans Merensky Foundation, visit http://www.hmh.co.za/Pages/default.aspx.
About Worldwide Who's Who©
With over 500,000 members representing every major industry, Worldwide Who's Who is a powerful networking resource that enables professionals to outshine their competition, in part through effective branding and marketing. Worldwide Who's Who employs similar public relations techniques to those utilized by Fortune 500 companies, making them cost-effective for members who seek to take advantage of its career enhancement and business advancement services.
Worldwide Who's Who membership provides individuals with a valuable third-party endorsement of their accomplishments, and gives them the tools needed to brand themselves and their businesses effectively. In addition to publishing biographies in print and electronic form, it offers an online networking platform where members can establish new professional relationships.
For more information, please visit http://www.worldwidewhoswho.com.
Contact:
Ellen Campbell
Director, Media Relations
Worldwide Who's Who