France Malo Recognized for Excellence in Fine Art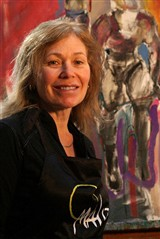 Ms. Malo is an award-winning artist born in 1958
MONT SAINT-HILAIRE, QUEBEC, CANADA, December 26, 2014, France Malo, Master in Fine Arts, has been named a Worldwide Branding Professional of the Year in Fine Art. While inclusion in Worldwide Branding is an honor, only small selections of members in each discipline are chosen for this distinction. These special honorees are distinguished based on their professional accomplishments, academic achievements, leadership abilities, years of service, and the credentials they have provided in association with their Worldwide Branding membership.
Ms. Malo has 40 years of experience in the field and in her current role, where her duties involve the creation high-quality art work. She will participate in the Salon National des Beaux-Arts 2014, Carroussel du Louvre in Paris, France and at New-York Arts Expo 2015, Vancouver Art Expo 2015, Art Monaco'15, ART 3F and ART IN NICE 2015. In the past five years, she won many awards and grants from international societies including the prestigious 2013 David-Nillet Prize from Société Nationale des Beaux-Arts, France. In the future, Ms. Malo hopes to do international projects and give lectures all around the world about her learning experiences through art, sports, and traveling.
She attributes her success to her curiosity, passion and her inexhaustible energy. She became involved in her profession when she first felt the passion that she experiences while drawing. At 14 years old, she was selected to participate in European's TV Art Camps in France, Spain and Switzerland. At the age of 15, she began to teach drawing, painting and ceramic classes in Quebec, Canada. From 1974 to 1978, she participated in 26 artistic television shows with Radio-Canada and French TV in Europe. The multidisciplinary artistic direction in her career was initiated by all those experiences. The most gratifying aspect of her career is being involved in the learning process through the arts, which she has experienced through education.
Ms. Malo earned a Master of Fine Arts title from Academie Internationale des Beaux-Arts du Quebec, a Bachelor in Communications from the Universite du Quebec a Montreal (1984), and has many credits from different international universities in visual arts and cinema. She also holds certifications from UCLA, the Pennsylvania Academy of the Fine Arts, the Universite de Geneve and Santa Monica College CA.
She has garnered honors, titles and medals, such as Artist of the Year 2013-2014, Gala Academia XX1-2013; ASSOCIE, Societe Nationale des Beaux-Arts; OFFICIER and Vermeil medal, European Institute of Contemporary Arts; OFFICIER, Mondial Art Academia; Gold medal IEDAC; Bronze medal Art-Sciences-Lettres, Paris, France, prizes and presidencies in Canada. Her work is published in International Magazines and Artbooks such as Internationale Kunst Heute 2014 and 2015, International Contemporary Artists vol VII, VIX, Pour une lecture éclairée de l'Art Contemporain 2015, Hachette-Réalité 1986, 1989, etc.
In recognition of all her achievements, Ms. Malo has been recognized numerous times by Worldwide Branding. She received a Lifetime Achievement Award and was named an Elite American in Fine Arts, an honor that can be viewed at http://eliteworldwideprofessionals.com/2014/01/08/france-malo. She was chosen to be profiled in the "Top 101 Industry Experts" book and named a VIP Member. Finally, she was also named an Art Top Female Executive (visit http://topfemaleexecs.com/2013/07/22/malo-creatrice-dart).
Ms. Malo also maintains affiliations with Regroupement des Artistes en Arts Visuels du Quebec RAAV-CARFAC, CMAQ, CALQ, CMCC, IEDAC, SNBA. Charitably, she supports many organisations. For more information about her, visit http://francemalo.com.
MALO Creatrice d'Art is a studio that provides fine arts, artwork, mix media, collectible Sgraffito ceramics series, sculptures and contemporary paintings of various subjects. She is a well known art consultant and a leader for ART in SPORTS and SPORTS in ARTS.
About Worldwide Who's Who©
With over 500,000 members representing every major industry, Worldwide Who's Who is a powerful networking resource that enables professionals to outshine their competition, in part through effective branding and marketing. Worldwide Who's Who employs similar public relations techniques to those utilized by Fortune 500 companies, making them cost-effective for members who seek to take advantage of its career enhancement and business advancement services.
Worldwide Who's Who membership provides individuals with a valuable third-party endorsement of their accomplishments, and gives them the tools needed to brand themselves and their businesses effectively. In addition to publishing biographies in print and electronic form, it offers an online networking platform where members can establish new professional relationships.
For more information, please visit http://www.worldwidewhoswho.com.
Contact:
Ellen Campbell
Director, Media Relations
Worldwide Who's Who