Werner Paul Albert Dreessen, Attorney at Law, Honored for Excellence in Legal Services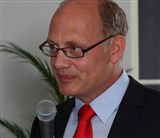 Werner Paul Albert Dreessen is committed to building a better society through honesty and justice
ANTWERP, BELGIUM, February 28, 2014, Werner Paul Albert Dreessen, Attorney at Law and Owner of the law firm Law on Time at the Bar of Antwerp, has been recognized for showing dedication, leadership and excellence in legal services.
Mr. Dreessen is passionate about utilizing honesty and justice to make a positive difference in the world. He is an independent lawyer, federally recognized mediator, and bankruptcy trustee with nearly three decades of experience, and is noted for his trustworthy legal practices and problem-solving skills. Mr. Dreessen opened his own firm, Law on Time, in 1987. Today he oversees two firms, one in Belgium, and the other in Spain. The Belgian firm, which he started in 1987, specializes in legal services in the areas of commercial, corporate, bankruptcy, inheritance, criminal, policy, trade, seizure, and labor law. The Spanish firm, which he founded in 2003, handles real estate law and provides guidance in buying and selling real estate in the south of Spain, a region that includes Costa Blanca, Costa de Almeria, and Costa del Sol. This firm also provides fiscal and bank guidance for finance and mortgages, corporate contracts, inheritance law, and estate planning services.
Mr. Dreessen works closely with both clients and staff in order to achieve success in his cases. An informative communicator, he is fluent in multiple languages, namely Dutch, French, English, Spanish and German, and he is able to thoroughly understand problems and create effective solutions. Mr. Dreessen believes that his accomplishments stem directly from his dedication to see justice done, either by negotiation or legal procedures. He was exposed to the legal field at a young age because his father was a lawyer for more than 45 years. His family strongly encouraged him to obtain a degree, and he formed a solid educational foundation for his career. In 1987, Mr. Dreessen graduated with distinction from University KU Leuven with a Master of Law. His further studies include training and degrees in corporate law through the University of Brussels in 1992, management logistics in 1996, and mediation in commercial, civil, labor and family matters in 2008. Mr. Dreessen was admitted as a bankruptcy trustee at the Court of Commerce of Brussels in 1999. Furthermore, he has served as chairman of the board of directors of VZW Solvi-Mediation Center since February 2009.
In recognition of his success, Mr. Dreessen was recently inducted into Worldwide Branding. He looks forward to continued professional growth in the coming years. Looking 10 years ahead, Mr. Dreessen intends to relocate to Spain and focus more on consultancy and mediation.
For more information about LAW ON TIME, visit http://www.lawontime.be.
For more information about SOLVI MEDIATION CENTER, visit http://www.solvi.be.
To learn more about Mr. Dreessen, visit http://be.linkedin.com/in/lawontime101987.
About Worldwide Who's Who©
With over 500,000 members representing every major industry, Worldwide Who's Who is a powerful networking resource that enables professionals to outshine their competition, in part through effective branding and marketing. Worldwide Who's Who employs similar public relations techniques to those utilized by Fortune 500 companies, making them cost-effective for members who seek to take advantage of its career enhancement and business advancement services.
Worldwide Who's Who membership provides individuals with a valuable third-party endorsement of their accomplishments, and gives them the tools needed to brand themselves and their businesses effectively. In addition to publishing biographies in print and electronic form, it offers an online networking platform where members can establish new professional relationships.
For more information, please visit http://www.worldwidewhoswho.com.
Contact:
Ellen Campbell
Director, Media Relations
Worldwide Who's Who